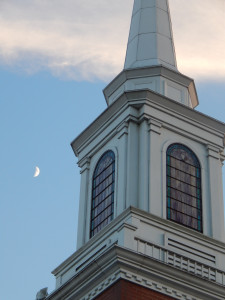 Our History
In 1959, the First Baptist Church of Oxford planted a mission in the Meadowbrook community on the western side of Oxford to reach that rapidly growing part of town for Christ. After only seven months, on April 24, 1960, Meadowbrook Baptist Church was constituted as a church. Reverend Don Phillips served as the first pastor.
Over the past fifty plus years, with God's help and blessings, the Meadowbrook family has grown numerically, built buildings, launched and supported numerous ministries and programs, sent people and teams out on mission around the globe and most importantly of all, seen hundreds of people won to Christ, baptized and taught to obey the commands of Christ.
Historical Timeline
1959 First Baptist of Oxford established a mission in the Meadowbrook subdivision. A one-story building was built to house the new mission.
1960 Meadowbrook Baptist Church was constituted as a church on
April 24th with Reverend Don Phillips as pastor.
1961 Reverend Robert C. Powell was called as pastor. A two-story addition (sanctuary, classes and kitchen) was built.
1966 Reverend Charles B. Stroud was called as pastor. Meadowbrook adopted the theme "Built to Minister" as the church motto.
1968 The present sanctuary was dedicated. The kindergarten program began with Betty Stroud serving as the first director.
1970 Classrooms and new offices behind the sanctuary were completed.
1971 Gordon Rogers was called as the first Youth Minister.
1973 Reverend James Paul Hunter was called as pastor.
1974 First Men's Mission trip taken to the Dominican Republic.
1975 Property adjacent to the current campus was purchased. Don Hazard was called as the first full time Minister of Education/Evangelism.
1976 The Bus Ministry was started by Gerald and Ethel Hill.
1979 The Abundant Life Center (gym, kitchen & classrooms) was
completed. The kindergarten program became full-time and was expanded to include a daycare. It was directed by Peggy Brown.
1984 Reverend Frederick W. Bueto was called as pastor
1985 The last kindergarten class graduated. The daycare was renamed Abundant Child Care
1989 Meadowbrook retired the debt from previous construction
1991 Mike May was called a Minister of Music & Education
1993 The first Judgment House outreach was started
1994 The sanctuary was renovated and new stained glass
1999 Reverend Gary Rivers was called as pastor
2003 More property adjacent to the current campus was purchased for future expansion
2005 David Bain called as Minister of Music/Administration
2012 Jim Wilburn called as Minister of Student Activities
2014 Dr. John White called as pastor
2015
Intercessory Prayer Room Ministry started. 30th annual Mission Trip was taken to Florence, Mississippi to help with the construction of a
ne
w sanctuary for Hickory Ridge Baptist Church
2018 Thomas Kandziorski called as Minister of Students
2019 Holly Vaughan called as Children's Director
2021 Drew Sprayberry called as Minister of Students
Wayne Tucker called as Technical Worship Coordinator
Thomas Kandziorski called as Minister of Music